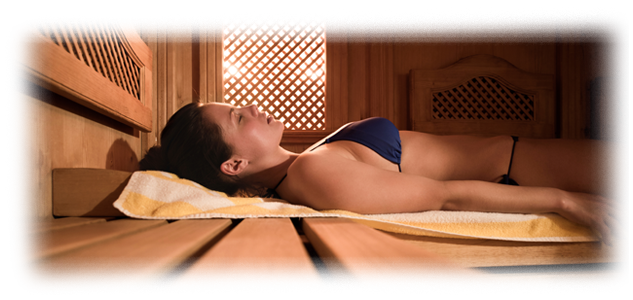 Sauna Sileby
Our brand new sauna in Sileby is a great addition to our facilities and it will help to improve many different areas of the body.
The sauna originates from Finland and is traditionally constructed of dry wooden planks, which you can relax on. The sauna is then heated to create a dry heat, often between 60 – 80 degrees Celsius.
The high temperature causes the body to perspire, removing any unwanted toxins from the body and opening up the pores. This results in many positive effects on your body and overall health, including better circulation, clearer skin and deep relaxation.
Spending some time in a sauna after physical exercise will help ease those tired muscles and get rid of any lactic acid, which may have built up during your workout.
The intense heat naturally increases your heart rate, which means you actually burn calories while relaxing.
Breathing deeply in this atmosphere can also really help with many respiratory problems, such as congestion, laryngitis and many others.
It is the perfect place to sit and relax after a hard workout in the gym or if you've had a stressful day and want to unwind and relax in a beneficial environment, our sauna is for you.
If you are based in Sileby, Barrow Upon Soar, Cossington, Wymeswold or in the surrounding villages and are looking for a quality sauna to relax in, then contact us today!
Sign up today to get access to our sauna, excellent facilities and expert personal trainers. Call us today on 01509 815490 or fill out our contact form where one of our team will get back to you.